Jeremy Boreing had never planned to get into the razor business. That changed in March when online shaving gear seller Harry's yanked its ads from his conservative news site over what it called "inexcusable" views and a "values misalignment" relating to the LGBTQ+ community.
The Daily Wire CEO launched his own line of razors in March under the Jeremy's Razors brand—selling products remarkably similar to those of Harry's.
"They left us for saying boys are boys and girls are girls," complained Boreing, whose news site is known for its podcasts with conservative commentator Ben Shapiro.
The battle of the razors is the latest in a growing war against "woke business" by conservatives who are starting their own companies or investment funds, using activist shareholder tactics and drafting legislation to target firms espousing liberal causes. The goal: to force executives to focus on profits rather than changing the world—or, at least, not changing the world in ways that align with liberal values.
The issue has taken center stage recently as a number of high-profile companies—including Disney, J.P. Morgan, Levi Strauss and Microsoft—announced plans to cover travel expenses for employees seeking an abortion in the wake of the Supreme Court's reversal of Roe v. Wade. That followed other headline-making cases of businesses speaking out on social issues, such as Disney taking a stance on legislation in Florida restricting classroom instruction on sexual orientation and gender identity and dozens of companies from Silicon Valley to Wall Street pledging to fight racial injustice after George Floyd's death in 2020.
The right-wing backlash, though limited so far, is growing and poses a competing challenge for companies as they juggle demands from some employees, customers and social media campaigners to take a stand on social issues. If successful, the conservative movement could also chip away at the multi-trillion dollar and growing business of environmental, social and governance (ESG) investing and, perhaps, the very idea of businesses being accountable for more than just making money.
"Firms are making polarizing bets," said Valentin Haddad, an assistant professor at UCLA Anderson School of Management and research fellow for the National Bureau of Economic Research. "The initial stage of corporate activism is coming from the left, and now there's pushback from the right. Are companies gaining more from the left or losing more from the right? That's their debate."
A Growing Movement
Jeremy's Razors did remarkably well. In just three days, its Twitter account had 35,000 followers, 3,000 more than Harry's gained in 12 years. Within two months the new company had sold 63,000 shaving kits and the razor business was growing faster than The Daily Wire itself, Boreing tells Newsweek. Advertising that mocked liberal sensitivities didn't hurt.
"Do you remember when there were only two genders, and only one-and-a-half of them had to shave their mustaches?" Boreing asks in a commercial that was viewed over 21 million times in seven weeks on YouTube. It features scantily-clad women, burly security officers, a flame thrower, a bald eagle, a little girl shaving and a parody of a "homo-erotic moment." It also targets Gillette, which ran an ad in 2019 that featured a father helping his transgender son to shave for the first time. Harry's declined to respond to Newsweek's request for comment.
Other new companies in the "anti-woke" battle include Rumble, an alternative to Twitter, and Truth Social, a social media firm backed by former President Donald Trump. There's a cell phone company called Patriot Mobile, which bills itself as "America's Christian conservative wireless service provider" and champions the Second Amendment. An email service provides reagan.com addresses, honoring the values of Ronald Reagan and boasting extra privacy to suppress "surveillance capitalism."
Some companies have been around a bit longer, such as the veteran-owned Black Rifle Coffee Company, which has been serving coffee to "people who love America"—and shun the famously liberal Starbucks—since 2014.
"You have to fight back against this one-sided situation in our culture," said Boreing.
Conservative suspicions of left-leaning corporate bias were reinforced after the Roe v. Wade decision in June, with the widespread company pledges of financial help to employees seeking abortions if they can no longer get them in their own states. "Roe v. Wade's Demise Is a Turning Point for Corporate America," said an article in the Harvard Business Review by Andrea Hagelgans and Soni Basi of PR firm Edelman.
"Employers are the only institution that Americans trust to do the right thing when it comes to social issues," they said, citing an Edelman Trust Barometer, which found that business had overtaken government, media and NGOs in terms of which institutions respondents said they trusted. In the U.S., business had a trust level of 49 percent compared to 39 percent trust in both government and the media. However, for the first time, the survey showed Republicans now distrusted business—with trust plummeting 12 percentage points to 48 percent. Among Democrats, it rose one point to 55 percent.
For some Republicans, the corporate response to the Roe v. Wade decision was horrifying.
"If corporations are paying $4,000+ to their female employees to kill their baby, they should pay them the same to celebrate life when their employees become mothers," tweeted Georgia Representative Marjorie Taylor Greene.
Applying Pressure
Launching products to appeal to conservatives is only one front for anti-woke campaigners. Other conservatives are trying to apply pressure to existing businesses, investors and investment funds.
Among those pushing in the conservative direction is Scott Shepard, whose Free Enterprise Project (FEP) buys shares in publicly held companies so it can ask difficult questions at shareholder meetings. Last year, his targets included Warner Bros. Discovery, Comcast, Twitter and Coca-Cola—criticized for including a lesson from LinkedIn Learning that instructed employees to "try to be less white" as part of its diversity training. (The lesson was removed from LinkedIn Learning after a whistleblower revealed its contents. Coca-Cola said it had been part of a learning plan to build an inclusive workplace.)
Coca-Cola was also among the companies that found themselves in the conservative firing line for opposing a bill in Georgia that, among other other provisions, requires voters to provide a driver's license number or other state-approved ID when filing an absentee ballot—a bill, opponents say, will disproportionately discourage Black voters.
Putting Bank of America CEO Brian Moynihan on the spot, Shepard asked him to "explain specifically how requiring voters to show ID in order to avoid fraud is racist." Shepard took it as a small victory when Moynihan responded that maybe the bank needed a bipartisan commission to figure out when it should weigh into politics.
"All of the shareholder activism for the past 20 years has been on the left, and, increasingly, the hard left," Shepard tells Newsweek. "Our goal isn't for companies to suddenly embrace conservative political positions, but to get back to the business of flying us around the country and selling us fizzy drinks."
William Flaig agrees: so much so that the investment professional with two decades' experience has started the American Conservative Values Exchange Traded Fund, which trades on the New York Stock Exchange. The ETF, with assets of over $30 million, is a basket of stocks in the S&P 500, minus the ones that management has deemed too "woke" to support after surveying shareholders. Those include Apple, Nike, Amazon, Starbucks, The New York Times and Disney.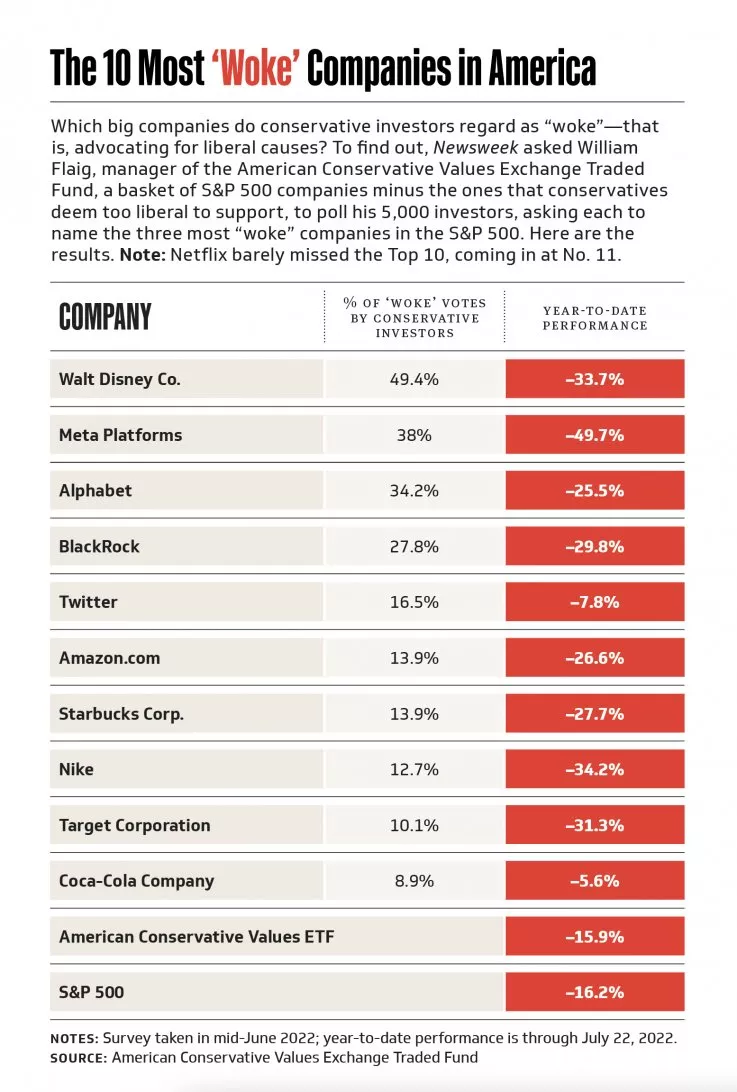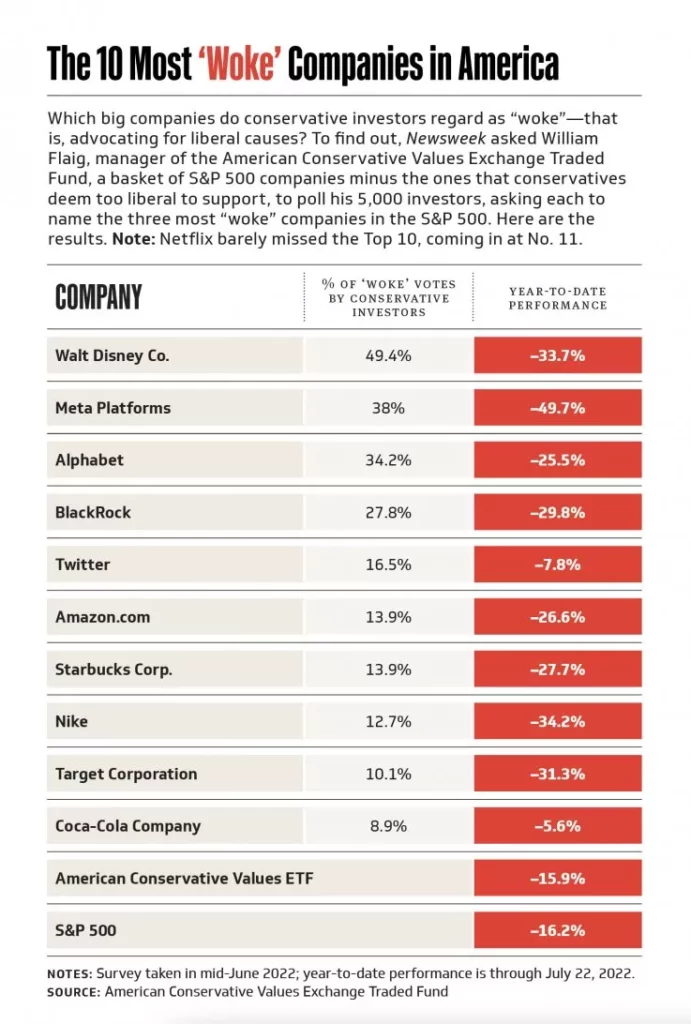 While it can't be taken as a longer-term indication of performance, the conservative ETF has done somewhat better than the benchmark S&P 500 index over the past year—falling 5.9 percent vs. 8.6 percent for the benchmark index (through July 27).
Disney climbed the wokeness list in March when it advocated overturning Florida's Parental Rights in Education bill. That prompted Governor Ron DeSantis to threaten to take away tax and regulatory favors that have been hugely valuable to Disney's theme park business since 1967. The law, dubbed the "Don't Say Gay Bill" by critics, dictates that educators should not teach sexual orientation or gender identity until after the third grade.
Disney drew further ire from conservatives when a leaked video of an internal meeting showed a children's programming executive boasting of a "not-so-secret gay agenda." Another staffer said his team was making sure there was no shortage of trans, asexual and bisexual characters in cartoons.
The video raised more disquiet. A poll from the Trafalgar Group, sponsored by the conservative group Convention of States Action, said it prompted over 68 percent of likely voters to say they're less inclined to do business with Disney—including nearly half of Democrats.
Disney did not respond to Newsweek's request for comment.
Conservative activist Christopher Rufo, who made the Disney video public, has become a leading force in the anti-woke movement. He tells Newsweek that conservatives can use reputational, financial and political leverage on corporations. "With Disney, the conservative movement successfully pulled all three levers and created the new playbook for taming woke capital," Rufo says.
Internal documents sourced by Rufo were also part of a campaign against American Express—dubbed UnAmerican Express by its critics, who accuse it of prioritizing the hiring of non-white employees and complain staff, as part of an anti-racist initiative, were instructed not to use phrases like "I don't see color," and "everyone can succeed in this society if they work hard enough" because they are "microaggressions."
Conservative competition has meanwhile been emerging to AARP, a nonprofit interest group for the over 50s whose critics say it leans left, pointing to its support for former President Barack Obama's Affordable Care Act. One right-wing alternative is dubbed Christ Above Politics. The most popular is The Association of Mature American Citizens, which lists its core values as "faith, family and freedom." It has grown to more than 2 million members in 2020 from fewer than 100,000 in little over a decade.
Targeting ESG
One of the most ambitious efforts by conservatives to fight corporate wokeness challenges the investment management industry, whose biggest firms have placed growing emphasis on environmental, social and governance (ESG) investing worth trillions of dollars worldwide.
Strive Asset Management says it "will compete directly with the world's largest asset managers by creating investment funds that advocate for the pursuit of excellence over politics in boardrooms."
Strive was founded in May by Vivek Ramaswamy, the author of Woke Inc.: Inside Corporate America's Social Justice Scam. It argues that asset managers such as State Street Corp., Vanguard Group and BlackRock Inc. are using client money to advocate for pet causes rather than prioritizing corporate performance. Among Strive's initial investors is Peter Thiel, the billionaire co-founder of PayPal, first outside investor in Facebook and bogeyman for Silicon Valley liberals.
Among what Ramaswamy cites as bad examples of corporate behavior is the way State Street, Vanguard and BlackRock have pushed energy companies to focus more on climate change than producing oil and gas.
"If the CEOs of the largest energy producers got in a room together and decided they'd keep oil in the ground and jack up prices, this would be the stuff of movies, people would be arrested and it would be the biggest antitrust violation in history," said Justin Danhof, who joined the company this year from the Free Enterprise Project, the conservative shareholder activism and education program. "BlackRock changed the game in 2018. Asset managers had largely been passive, then BlackRock began to weaponize their money."
BlackRock says in public documents that "risks of climate change and the transition to a lower carbon economy present material regulatory, reputational and legal risks to companies that may significantly impair their financial position," thus it is honoring its fiduciary duty when it negotiates with all companies to lessen their carbon footprint.
In a 2022 letter to the CEOs of companies that his firm invests in, BlackRock CEO Larry Fink seemingly addressed the conservative criticism by writing: "Stakeholder capitalism is not about politics. It is not a social or ideological agenda. It is not 'woke.' It is capitalism, driven by mutually beneficial relationships between you and the employees, customers, suppliers, and communities your company relies on to prosper."
State Street global head of asset stewardship Ben Colton told Newsweek that his firm is consistent and transparent in the way it evaluates "proposals on social and environmental matters" and that its "efforts will continue to be focused on creating value and fulfilling our fiduciary duty." Vanguard told Newsweek that it has "a diverse group of more than 30 million individual investors" with a "broad range of personal beliefs and priorities" and that it is "grounded in our duty to act in their best interests."
Ramaswamy isn't buying it, saying all the activism is in one, liberal direction, and that his goal is to take politics out of the industry.
"You tell me of a right-wing company in the S&P 500 and I'd be glad to tell you how we'd advocate for depoliticizing it," he says. "BlackRock, State Street and Vanguard are using the capital of their clients—everyday Americans—to advocate for policies most of them probably don't agree with. The role of a depoliticized private sector is to bring us together, whether we are Black or white, red or blue. A divided body politic is dangerous, and this problem is caused in part by asset managers who demand that CEOs engage in a political agenda."
BlackRock, in fact, told Newsweek it is "pursuing an initiative to use technology to give more of our clients the option to have a say in how proxy votes are cast at companies their money is invested in," as opposed to BlackRock managers making all of the decisions about which way to vote on sometimes divisive issues.
For companies to reject ESG benchmarks could be a mistake, said Professor Kirk Snyder of the USC Marshall School of Business.
"ESG contributes to conveying to stakeholders, including employees, why a company exists," he says. "Companies wading into politics provides an opportunity to further define its values and what it stands for. Of course, this will not be received in a positive way by all stakeholders."
The Left Pushes Back
Progressive campaigners are noticing the rise of opposition from conservatives.
One player is the nonprofit As You Sow, which says it harnesses "corporate responsibility and shareholder power to create lasting change" with programs that "address gender inequalities, workplace equity, environmental health, and more."
GOP Bets on Black Conservatives As Key to Victory: 'We Change or We Die'READ MOREGOP Bets on Black Conservatives As Key to Victory: 'We Change or We Die'
It recorded that the number of conservative proposals to corporate boards had nearly quadrupled to almost 40 during the period between 2013 and 2021—though the group's CEO Andrew Behar notes those proposals earned an average shareholder vote of less than 3 percent compared to 30 percent for actual ESG resolutions.
"This is because the underlying ideas expressed in these resolutions increase risk to all corporate stakeholders," he tells Newsweek. "I do not see anti-ESG shareholder advocacy as undermining the trend toward a regenerative economy based on justice and sustainability."
Levi Strauss & Co. ran into a storm over politics when brand president Jennifer Sey disclosed she had quit in February because the company famous for its blue jeans objected to her outside advocacy of reopening schools during the COVID-19 pandemic. Although she described herself as a center-left liberal who had supported Elizabeth Warren for president, the right embraced her as a hero. She wrote in Substack that the "last straw" for Levi's had been her appearance on Laura Ingraham's Fox News show, after which she said colleagues accused her of being anti-science, anti-fat, anti-trans and racist. Rather than going on an "apology tour," as she says Levi's had requested, she left and moved from San Francisco to Denver, where public schools were open. Levi's declined Newsweek's request for comment.
"We think it would be great for America not to have a red soda or blue soda, and not have red jeans or blue jeans," says Danhof of Strive Asset Management. "Everyone should be able to engage in commerce without having a fight on their hands."
That said, a Trafalgar poll in May shows that many consumers do care about the positions taken publicly by companies whose products and services they use. It indicated that 87 percent of likely voters say they are "likely to stop doing business with a company that takes a political stand they disagree with."
Defending Capitalism
To help guide consumers, conservatives have started ranking companies by their politics. One index is CancelThisCompany.com, which recently added Harry's to its list of "'woke' companies to boycott." The PublicSq.app, launched last year, lists "freedom loving" businesses, saying "It's time to stop buying from companies that hate you."
Another guide is 2ndVote, which ranks Levi Strauss a "1"—as far as it is possible to go on the liberal spectrum. Disney, Coca-Cola, Amex and Facebook are all 1s too.
Some 87 percent of likely voters say they are "likely to stop doing business with a company that take a political stand they disagree with." Here, protesters air their views about Netflix.
With a rating of 4.13 out of 5 is Chick-fil-A, which took a stand more than a decade ago when its CEO spoke out against same-sex marriage. While liberals called a boycott, it has still thrived. By sales, it has grown to rank as America's third biggest fast-food chain, according to the Restaurant Business website.
In April, the Free Enterprise Project and 2ndVote, along with the Job Creators Network of Home Depot co-founder Bernie Marcus, partnered with former McDonald's CEO Ed Rensi and former Best Buy CEO Brad Anderson to create what they dubbed The Boardroom Initiative in defense of capitalism.
"Free-market capitalism—a system responsible for lifting billions of people out of poverty and improving the worldwide standard of living—is now under attack," its website says. "Elitist investment fund managers…are slowly infiltrating American corporations by embracing woke cancel culture and prioritizing ESG scores."
In June, the Job Creators Network launched a "Rock the Woke" campaign, promising national advertising and possible legal actions "to highlight egregious examples of "wokeness" hijacking free-market capitalism and to pressure companies to focus on providing products and services that consumers want—not on being culture warriors." Meanwhile, the American Free Enterprise Chamber of Commerce, or AmFree Chamber, is positioning itself as a rival to the 110-year-old U.S. Chamber of Commerce, with a promise to fight for "equal economic opportunity for every American" and against regulation, tax, corporate cronyism and "backroom DC deal making."
As conservatives see it, part of the problem lies with the Securities and Exchange Commission, which wants publicly traded companies to disclose their board diversity and the risks to climate change that their businesses pose.
Such initiatives have caught the eye of Marco Rubio, the Republican senator from Florida, who introduced in September the "Mind Your Own Business Act," which he says "would put the burden of proof on corporations to show that their far-left actions were in shareholders' best interests, and make corporate directors and officers personally liable if they can't prove it." Florida Governor DeSantis, in an attack on what he called businesses 'imposing woke ideology' and using ESG metrics, announced measures this month to prohibit the state's money from being invested based on "political factors".
Whether on the right or the left, big businesses need to beware of the risk of communicating a socio-political stance, said Vanessa Burbano, a professor at Columbia Business School who authored a 2021 study on the subject.
Among its conclusions, Burbano says: "Employees who disagree with a political stance taken by their companies are demotivated—they do less extra work and do lower quality work." On the flip side, "Those who agree with a political stance taken by their companies are not motivated—they behave no statistically differently than a control group." There's similarly a downside in regard to wooing consumers, as they are likely to boycott over a political position they don't like but are not likely to "buycott" over stances they agree with.
Taking no stance on politics can also be problematic, Burbano says.
That was the case last year for Jason Fried, the CEO of Chicago-based software company, Basecamp, who banned talk about politics in the workplace.
"Every discussion remotely related to politics, advocacy or society at large quickly spins away from pleasant," Fried wrote in a blog post. "You shouldn't have to wonder if staying out of it means you're complicit, or wading into it means you're a target." After that, roughly a third of his 60 employees accepted buyouts to leave the firm, and many reportedly said it was due to the new restrictions.
"What remains to be seen is whether companies that communicate apolitical stances are inferred as being conservative," says Burbano. "If every other company takes a liberal stance and one says it is staying out of politics, how will people interpret that?"
The Netflix Conundrum
One company trying to navigate the perilous political dynamics is Netflix, which has long been considered a liberal company by conservatives, due to the political donations of co-CEOs Reed Hastings and Ted Sarandos. Hastings has made big contributions to educational institutions serving students of color and also for police reform efforts. Sarandos has made frequent donations to Democratic politicians, according to the Open Secrets website. The world's dominant streaming-media company struck a multimillion dollar production deal with the Obamas. And in February, Netflix VP of Inclusion Vernā Myers brought in White Fragility author Robin DiAngelo to offer "light and healing" to its employees and to equip them with "an inclusion lens."
But the left appeared to sour on the company, and many employees staged a walkout, when it streamed programs in which comedian Dave Chappelle told jokes that the LGBTQ+ community complained were demeaning. Netflix then impressed conservatives by standing firm and issuing an internal memo that said, in part, "Depending on your role, you may need to work on titles you perceive to be harmful. If you'd find it hard to support our content breadth, Netflix may not be the best place for you." After that, Netflix streamed comedian and actor Ricky Gervais also telling jokes deemed insensitive by LGBTQ+ advocates.
"Netflix told its employees, 'Too bad,' and that's the right message," says Danhof. "Netflix lived in that ESG universe, but ESG is a luxury that you can afford in a bull market."
Tesla founder Elon Musk, a rising hero for the right, in part after he said he voted for a Republican for the first time this year, tweeted "the woke mind virus is making Netflix unwatchable" after Netflix reported its first loss of subscribers in a decade.
In May, Netflix "scrapped a host of woke shows," as The Daily Mail put it. Those included Meghan Markle's animated project about a socially conscious girl; Antiracist Baby, an animated series based on Dr. Ibram X. Kendi's children's book of the same name; and Wings of Fire, which was to explore racism with Black filmmaker Ava DuVernay. Netflix did not respond to Newsweek's request for comment.
Fresh from his success selling razors, Boreing still sees Netflix—along with Disney—as a target of an expansion by The Daily Wire into streaming movies and TV shows. Its first release was 2020's Run Hide Fight, a movie about a 17-year-old girl who uses her survival skills to protect herself and her classmates against school shooters. Boreing says the movie paid for itself in its first week on The Daily Wire's subscription streaming platform despite poor reviews from established critics.
Last month, it released Terror on the Prairie, a western starring Gina Carano, the actress who was fired from the Disney+ streaming show The Mandalorian for social media posts that Disney said denigrated people "based on their cultural and religious identities." She had compared "hating someone for their political views" in the polarized U.S. to the way the Nazis treated Jews during the Holocaust. She accused Disney of bullying.
The Daily Wire, which has 600,000 subscribers, has also said it will spend $100 million on children's content. They're actually a little late to this party, as Angel Studios has for more than a year been producing The Tuttle Twins, an animated show about a boy and girl whose adventures promote free markets and decry socialism and has been streamed 1 million times on the VidAngel streaming platform and Angel app. But such competition doesn't bother Boreing.
"The target is to make the left compete," he says. "It's going to take a lot more than just The Daily Wire, since the left controls every major institution, including business. The bad news is, 99 percent of everything belongs to them; the good news is that everything is low-hanging fruit of opportunity."
https://www.newsweek.com/2022/08/12/woke-businesses-face-right-wing-wrath-culture-war-capitalists-cash-1730249.html